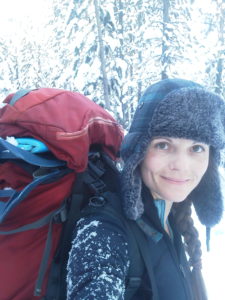 My name is Kelly E. Gleason.
I am currently an Assistant Professor of Ecohydrology in the Environmental Science and Management Department at Portland State University.
My research focuses on the interactions and feedbacks of hydrology, climatology, and ecology under a changing climate system. I use creative experimentation, micro-meteorology, geochemical analysis, remote sensing, and integrated modeling of eco-hydro-climate systems to evaluate how acute disturbances such as forest fire, and prolonged disturbances such as drought and climate change, alter local physical hydroclimatological mechanisms (such as snow accumulation and snow melt) and influence regional-scale water resource availability.
Previously, I served as the Maki Postdoctoral Research Fellow in Snow Hydrology at the Desert Research Institute, in Reno, Nevada. As a Maki postdoctoral research fellow, my research helped determine the impact of light absorbing impurities (i.e., black carbon, dust, and burned woody debris) on snow hydrology and the resulting water resources across the Colorado River Basin.
I received my Doctor of Philosophy degree in Geography from Oregon State University, College of Earth, Ocean, and Atmospheric Sciences in 2015; my dissertation was titled "Forest Fire Effects on Radiative and Turbulent Fluxes over Snow: Implications for Snow Hydrology."
I received my Masters degree in Interdisciplinary Ecology, with a minor in statistics, from the University of Florida in 2010; my thesis was titled, "Elevational Gradient Resembles Latitudinal Gradient of Global Language Distributions."
I received my Bachelor's of Science degree from The Evergreen State College, in 2002.
For eight years I worked as a canopy research technician, a biological science technician, a natural resources consultant, and a Peace Corp Volunteer (Paraguay).
My goal is to develop a world-class eco-hydro-climatology research group that investigates mechanistic biophysical drivers of earth surface processes and water resource availability in snow-dominated ecosystems.
Contact Information
Kelly E. Gleason, Ph.D.
Assistant Professor
Portland State University
Environmental Science and Management
Office: SRTC B1-04D
Work: (503) 725-2334
k.gleason (at) pdx (dot) edu
Email: ecohydroclimatology (at) gmail (dot) com